The Best Listing Presentation.
Get the listings you want, the way you want them.
---
The Absolute Best Real Estate Listing Presentation
Now Available to Purchase. Fully Customizable just for YOU!
Ordering information below.
You have just found the most impressive and strategically organized Real Estate Listing Presentation that will help you win listings. This custom listing presentation is easy to use, cost effective, and works great for any real estate agent – experienced or not! Our listing presentation can be fully customized to match any brokerage's identity and branding, any agent's business model, and will work in any market.
A fully editable and customizable Listing Presentation built in Microsoft® PowerPoint. This provides you an opportunity to purchase this listing presentation at a low cost, AND you can change, modify, or update your listing presentation at any time by using Microsoft® PowerPoint. The horizontal format is ideal to display on an iPad, laptop or Android tablet – or print it out if you prefer.

As successful REALTORS®, associate brokers and marketing experts, we have been amazed to find that most real estate brokerages and agents lack good presentation materials to use when interviewing with potential home sellers. Without a strong and organized listing presentation, an agent may lose the listing to a better prepared competing agent.
Or if the agent does get the listing, he may not have set realistic expectations with the seller, and may have a more difficult time throughout the listing process. Not only will this help in winning listings but this is also helpful in setting realistic expectations for the seller right from the beginning. That means when you do get the listing, you will get the listing in the way you want it. The saying is true: "A listing well taken, is a listing half sold".
---
Its Easy to Get Started!
Order below, or call us today to learn more: 
(435) 901-2158
---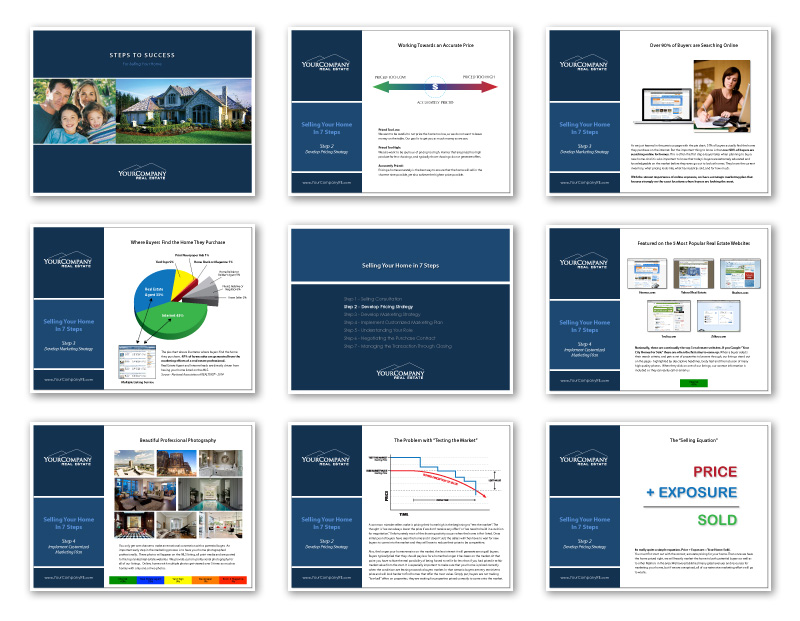 Above: Assorted pages from our Listing Presentation in the Blue version.
---
"How much money can you get for my home?"

"Where will you advertise my home?"
Sound too familiar?
---
 Why will our Custom Listing Presentation work better than any other?
There always seems to be the same two questions every home seller asks when interviewing real estate agents to list their home. An uneducated seller will often give the listing to the agent who promises to get the highest price for the home. If you promise a high price just to get the listing, you are starting a losing battle. Pricing a home is just like duck hunting – If they're going up you aim a little higher, if they're going down you aim a little lower. If you are priced too high for your market, you will not get the home sold. Instead, you will be continually asking the seller for price reductions, often too little, too late. The seller will think the home is not selling because you are not good enough as an agent. The relationship sours and you lose the listing to another agent.
The same is with marketing and advertising. Often, an agent will promise to do ads, brochures, postcards, etc., just to win the listing. We all know that advertising can work in real estate, but it usually promotes the agent, and rarely does it ever sell the home. When you deviate from your strategic marketing plan to satisfy the whims of an overbearing seller, you typically waste time and waste lots of money. This does not sell the overpriced home, and after all the time and money spent, the listing expires and ends up with another agent to sell.
Our Steps to Success Custom Listing Presentation is focused on setting realistic expectations for the seller right from the beginning. As a REALTOR®, you are a trained, knowledgeable, experienced professional. You know where a home should be priced. You know what marketing works, and what does not. With a strong listing presentation such as this, you will have a much better chance to win the listing, and you will establish yourself as the real estate professional and will have better success in establishing authority with your client.
We have developed our customizable listing presentation to be very easy for any real estate agent to use, and also easy for any home seller to understand. The horizontal PowerPoint format is ideal for presenting on a laptop computer, tablet or iPad. Whether you are a veteran REALTOR® with 20 years of experience, or a new real estate agent just starting out in this amazing career, our Steps to Success Custom Listing Presentation will work wonders for you and for your business. Whether you have a first time seller who knows nothing about the home selling process, or a more sophisticated client who has sold property before, this presentation tool will be of help to you. The goal is not only to get the listing, but to get the listing the way you want the listing!
Sounds good right!? Take a look at our Listing Presentation page for a summary outline and sample viewer of what our Steps to Success Listing Presentation looks like. You will be very impressed at just how effective this listing presentation is. Once ordered, the PowerPoint file comes to you mostly ready to go. You'll spend a little time customizing and personalizing to match your identity and business model. With only a little adjusting, you'll be armed with the Best Listing Presentation in your market!
Do I Really Need a Listing Presentation? Some agents may be able to get by without one, but there are many benefits to having a great listing presentation. You not only have a better chance of getting the listing, but you also better educate the home seller and set realistic expectations. Brokers can use it as a great training tool for their agents. Click here to read more.
---
Its Easy to Get Started!
Order below, or call us today to learn more: 
(435) 901-2158
---
Get the Listings You Want!
Our Steps to Success Listing Presentation does an incredible job of setting you apart from your competition. You will appear to be the most professional, the most prepared, the most credible, and the obvious choice to list their home.
Get the Listings the Way You Want Them!
Our Steps to Success Listing Presentation will help the seller to understand the importance of pricing correctly. If they still do not get it, you know right away if you should move on, and pass on taking the listing. They will also quickly understand where buyers come from, and will realize a shotgun approach to advertising simply does not sell homes – so you will not need to promise expensive ad campaigns. They will also understand their role in the home selling process. They will understand what they need to do to get their home ready for sale, and what they need to do during the listing timeframe. They will understand what you are working on, so they will not need to constantly ask what you are doing to sell their home. They will also have a preview of what happens when they receive an offer so they will be easier to work with when that happens. They will also have an understanding of what occurs once going under contract, so again, they will be more easily manageable. Overall, you will have a much better cooperating seller, because you will have a more educated seller.
Any Brokerage, Any Agent, Any Market!
Our Steps to Success Listing Presentation is an amazing tool for that will work for any brokerage, any agent, and any market! Whether you are an experienced agent or just getting started in the business, this presentation tool will help you. Whether you work in the luxury high-end market or first time sellers, this will help you.