A Fully Customized Listing Presentation Showcasing Your Company!
A great listing presentation is probably the most important tool a real estate brokerage should have. But the fact is, most real estate brokerages lack having this necessary tool, or have a very poor version of it.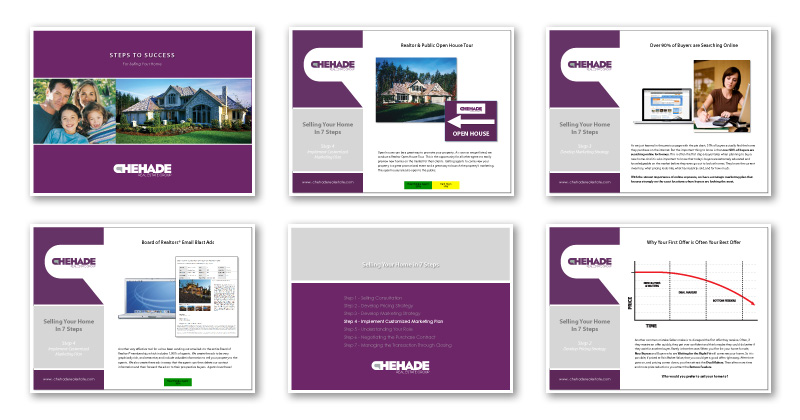 Above: This brokerage customized all coloring to match their unique branding. You can see that it is the same general presentation as shown in the other samples, yet it looks completely different and custom.
Our Steps to Success Custom Listing Presentation will not only help your agents sell more real estate, but will also help you promote your real estate brokerage. This strong presentation will also serve as an amazing recruitment tool for the brokerage. With our Steps to Success Listing Presentation, your brokerage can be far more successful in bringing on more agents and will help you grow your company. All agents, old or new, experienced or not, will quickly appreciate the value of this amazing tool. You as the broker providing this great selling tool will benefit from bringing on more agents, and better agents to the brokerage. Powered with this effective tool, your agents can be more successful, and therefore brokerage can be more successful.
Contact us direct for brokerage pricing – (435) 901-2158
The pricing on this website is for individual agent use only.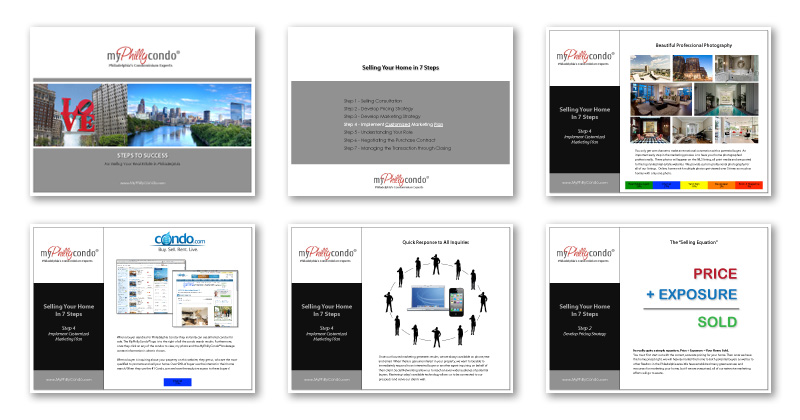 Above: Another sample where a boutique brokerage was able to adjust the coloring and change out a few images to make their presentation unique to who they are and what they offer to their clients.
This sample above was for an agent who formed a very small boutique brokerage in downtown Philadelphia. We used our same template and made a few adjustments to match the logo and color scheme he had created. He then added in a few custom pages on specific websites he advertises on and replaced some of our standard images with photos from his market area. Again, starting with our standard presentation and personalizing, this presentation looks completely different from the one above.
A Cost Effective, Easy to Use, Listing Presentation your Agents will LOVE!
Any agent and any brokerage in any market will find this listing presentation very helpful, effective and easy to use. As a Real Estate Brokerage, you can offer this listing presentation as a digital PDF file that an agent can easily present to their client on their laptop computer, on a desktop computer in the office, on a presentation monitor in the conference room, on their iPad at the clients home, or even right from your company website. An agent can also print the presentation out and place it in a presentation portfolio if they would rather have a printed hard copy vs. a digital copy. Its up to them and how they would like to do their presentation.
The best aspect of having this listing presentation in a digital format is that it is easy to make changes as the brokerage makes changes in the marketing it offers. Because we supply you with a fully editable Microsoft PowerPoint digital file, you can update the presentation quickly and easily. Since you are not printing out 1,000's of pre-printed brochures or booklets, there is little to no waste and the cost savings of staying digital is substantial compared to the old way of printing.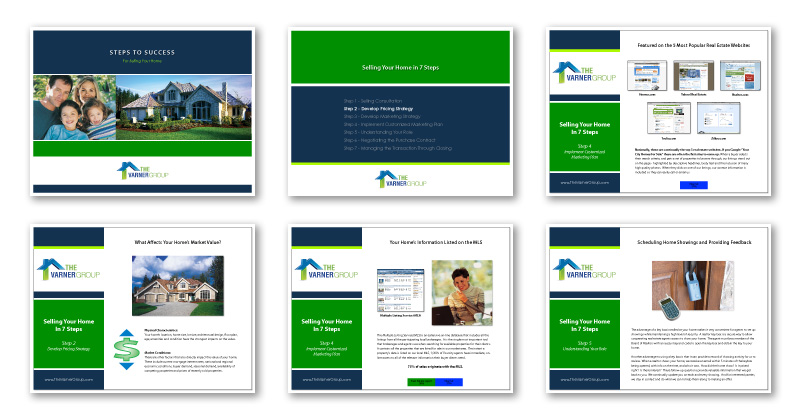 Above: Starting with the Blue presentation, this brokerage customized to match their branding. They already had a specific color scheme built into their existing logo. Using those colors, they were able to personalize their presentation to match.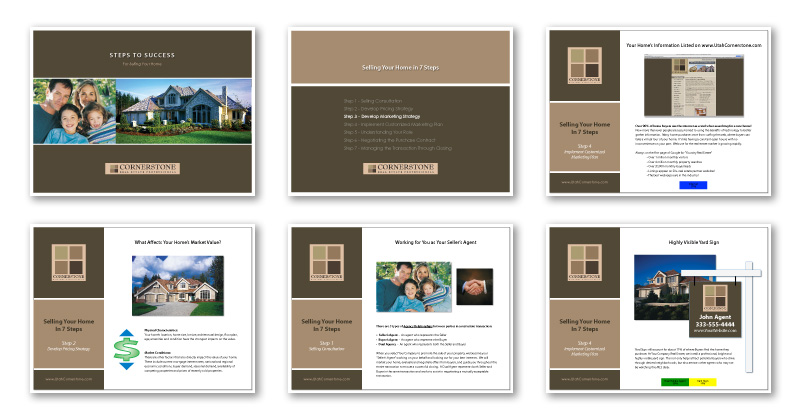 Above: Another sample where a boutique brokerage had an existing logo and branding. By quickly changing the color of the presentation to match, they now have a fully custom presentation unique to their brokerage.
A Great Recruitment Tool
As a broker, you are continually looking to bring on more agents, and better agents to grow the brokerage. By providing our Steps to Success Listing Presentation to your agents, you will have something to offer new agents that is a big step above what other brokerages are offering. Not only will this be helpful to recruit new agents, but will also be helpful in retaining the current roster of agents you have. Secure this great tool for your brokerage before your competitor does! Call us today at (435) 901-2158.
A Great Training Tool
Our Steps to Success Listing Presentation breaks the entire real estate listing and selling process down into 7 easy to understand steps. Each step is much like a chapter in a book, with a lot of great content. This listing presentation covers all aspects of listing and selling real estate, from beginning to end. It is so well organized, with nothing left out. You can use this presentation to outline what your brokerage does to market and sell property. Powered with this great presentation tool you can thoroughly train your roster of agents, old or new, on how to give a great listing presentation and leave the appointment with the listing. Just follow this easy step by step plan, and add your personal touch. Armed with this listing presentation, they can be much more effective in producing sales for the brokerage.