Steps to Success Custom Buyer Presentation
Our Steps to Success Buyer Presentation is about educating your buyer clients right from the beginning. As a Realtor®, you are a trained, knowledgeable, experienced professional. You know the market nationally, regionally and locally. With a strong buyer presentation such as ours, you will get the commitment of buyer prospects to work with you. We all know that working with buyers can be like herding cats. Our Buyer Presentation is a tool designed to help designate you as the real estate professional and establish control of your client.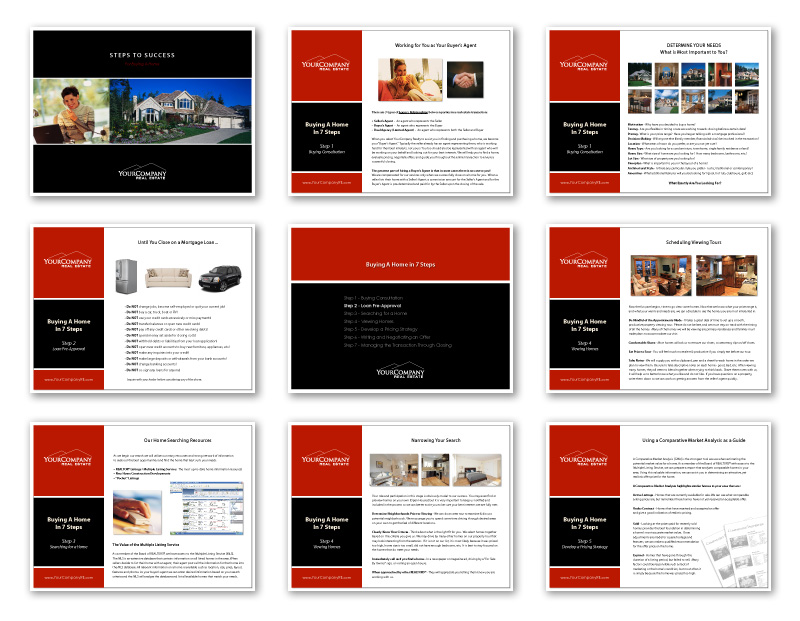 Above: Assorted pages from our Buyer Presentation in the Red version.
We have developed our buyer presentation to be easy for any real estate agent to present, and easy for any buyer to understand. Whether you are a veteran agent with 20 years of experience, or just starting out in this new career, our Steps to Success Buyer Presentation will work wonders for you and for your business. If you have a first time buyer who knows nothing about the home buying process, or a more sophisticated client who has purchased homes before, this presentation tool will be of help to you. The key is setting and managing realistic expectations. An educated buyer is a much easier buyer client to work with. An ideal use for this presentation is to provide great information on your website, or print the presentation out and create a ready-to-go buyer's info packet.
---
Its Easy to Get Started!
Order below, or call us today to learn more: 
(435) 901-2158
---
7 Steps to Success in Our Buyer Presentation
Introduction
In our Steps to Success Buyer Presentation the first thing we do is introduce ourselves and our real estate company or brokerage. If you are a new agent you can focus on the power of the brokerage. If you are an experienced top producing agent, you can focus on your individual success. Pages here can be on years in business, size of company, sales results of brokerage and/or agent, team member bios, etc. This is where you are setting up your credibility prior to running through the presentation.
Step 1 – Buying Consultation
Purchasing a home is one of the greatest rewards in life. When you hire us to assist you in purchasing a home we will do our absolute best to give you the personal attention and service you deserve. We will help you to find a great home, with fair terms, at a good price. Let's work together to make your dreams a reality.
Step 2 – Loan Pre-Approval
There are many advantages to getting pre-approved for a mortgage loan. You will know exactly what you can comfortably afford and will not be looking at homes out of your range. You become a "qualified buyer" which puts you in a stronger negotiating position with sellers. If your offer is accepted, your pre-approval can simplify the closing process.
Step 3 – Searching for a Home
One of the many advantages of hiring us as your buyer's agent is the valuable resources we have available to use when searching for a home. Along with being members of the Board of REALTORS® with access to the Multiple Listing Service, we also work as a team with other brokerages in town to provide a larger network of information and service.
Step 4 – Viewing Homes
This is an important time to work as a team to achieve the best results for you. Remember, we are here to assist you and guide you throughout the entire home buying process. Viewing homes can be a fun, but timely process so it is important to view only homes that meet your needs, and to be mindful of the appointments we set up.
Step 5 – Develop a Pricing Strategy
Once we find a home you like, you may decide to submit an offer on the home. Before writing an offer, we will do some research to be sure the Seller's pricing is in-line with the current market conditions. We can pull up the recent activity of sales listed in the Multiple Listing Service to find comparable home's pricing.
Step 6 – Writing and Negotiating an Offer
Our experience, knowledge and commitment to you will truly shine once we write an offer for your desired home. There are many important strategic factors to consider besides the price. This is where we really make a difference as we assist you in evaluating every important term of the contract to be sure we are looking out for your best interests.
Step 7 – Managing the Transaction Through Closing
Once your offer is accepted by the Seller you are then "Under Contract", but we still have much work to do to ensure a successful closing. Many of these steps will have strict deadline dates applied, and if not completed properly and on time, could cause forfeiture of your earnest money and loss of the sale. We will outline and discuss some of the steps to expect.
View Our Buyer Presentation Below: