Steps to Success Custom Listing Presentation

Our Steps to Success Custom Real Estate Listing Presentation is easy to present from an iPad, Android tablet or laptop, and will help real estate agents win listings. Too many times as real estate agents we let the home seller drive the listing appointment. Now, armed with this strong customized listing presentation you will be able to lead the meeting, and lead with strength, knowledge, real world facts and authority. The home seller will be quite impressed with your listing presentation, and will know he has found the right agent to list his home for sale. If you are up against another agent, even a more experienced agent, this will give you a competitive advantage.
Not only will this help in winning listings but this is also helpful in setting realistic expectations for the seller right from the beginning. That means when you do get the listing, you will get the listing in the way you want it. The saying is true; "A listing well taken, is a listing half sold".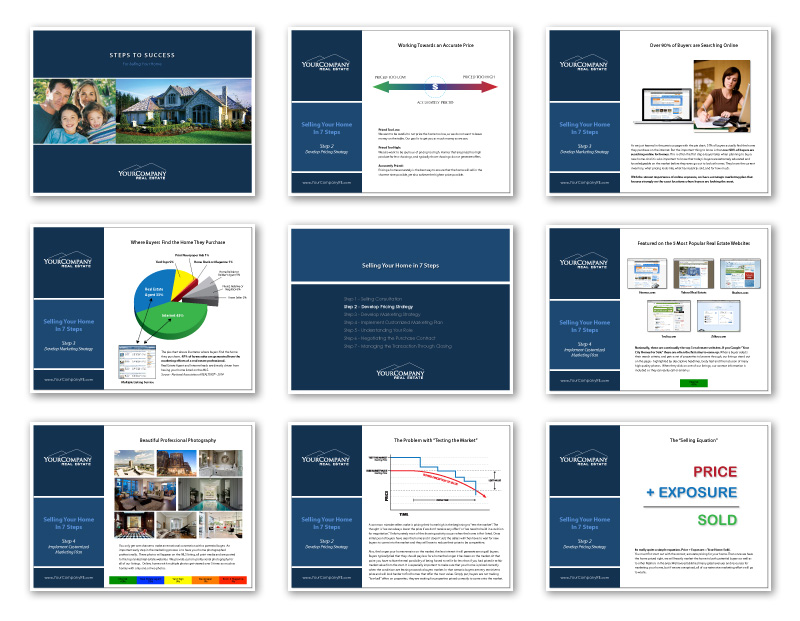 Above: Assorted pages from our Listing Presentation in the Blue version.
As a REALTOR®, you are a trained, knowledgeable, experienced professional. You know your market, you know the area's comps, and therefore you know where a home should be priced. You know what online or print marketing works, and what simply does not. With a strong custom iPad or laptop listing presentation such as this, you will have a much better chance to not only win the listing, but will also establish yourself as the real estate professional to better establish credibility with your client. Instead of falling into the position of overpricing, and over promising on marketing, you will have shown in your custom listing presentation how your selling plan works, and exactly how you intend to help sell their home. And you will have demonstrated your value.
---
"This is the listing presentation of my dreams! Thank you! Thank you!"
Lisa Davidson and Lori Hendry – Prudential Utah Real Estate
---
Do you have a company listing presentation that is too much fluff, outdated, or just not good enough?
Our Steps to Success Listing Presentation is a fully customizable template and comes to you in a fully prepared Microsoft PowerPoint format. If you have PowerPoint, you can fully edit anything in the presentation template. You can change text, images, colors, logos, add / delete pages, etc. We deliver the presentation ready to go, and all you'll need to do is run through and make a few simple text edits, change out your company logo, and adjust the coloring if you like. The more you personalize the listing presentation with your own images, the better it will be. But, right out of the box it is mostly ready to go. The horizontal format is ideal for presenting on a laptop, iPad or other tablet. PowerPoint allows you to save the file as a standard PDF which is easily viewed by anyone on most any device. Post to your website, print it out, or keep it on your iPad always ready to show.
We have developed our listing presentation to be easy for any real estate agent to present, and to be easy for any seller to comprehend. Whether you are a veteran agent with many years in the business, or just getting started in this new endeavor, our Steps to Success Custom Listing Presentation will work wonders for you and for your business. Whether you have a first time seller who knows nothing about the home selling process, or a more sophisticated client who has sold numerous homes before, this listing presentation will be of help to you. The key is setting and managing realistic expectations with your clients. An educated seller is a much easier seller to work with.
---
Its Easy to Get Started!
Order below, or call us today to learn more: 
(435) 901-2158
---
7 Steps to Success in Our Listing Presentation
Introduction
Approximately 6 Pages
In our Steps to Success Custom Listing Presentation the first thing we do is introduce ourselves and our real estate company or brokerage. If you are a new agent you can focus on the power of the real estate brokerage and use that credibility to your advantage. If you are an experienced top producing agent, you can focus on your individual success. Pages here can be on years in business, previous experience, community involvement, size and success of your real estate company, sales results of your brokerage and/or agent, team member bios, etc.
This is where you are setting up your credibility prior to running through the listing presentation. Everyone has something to use, some strength to promote. The PowerPoint template will allow you to edit these pages to suit your needs best. You can also add more pages if needed, it's so easy! And if you need advice or direction on customizing your listing presentation, were always just a phone call away.
Step 1 – Selling Consultation
Approximately 5 Pages
Now that the homeowner knows that we are truly an experienced, knowledgeable and successful professional in our industry, we can get to better know them, their home and why they are selling. First we talk about agency relationships and how we are being hired to work for them. We then discuss their home and most importantly, why are they selling? We want to understand their motivation to sell, timing, and all expectations. What are their needs and what is most important to them? What can they share about their home, and are there any issues we need to be aware of?
By going through this conversation we show that we really are concerned about them and looking out for their best interests. And for us, we can begin to decide if we will take the listing. We also begin to manage their expectations so if we do take the listing, we can start out on the right foot.
As you'll see throughout each step of this listing presentation, there is an organized flow of information, in a very easy presentable format.
Step 2 – Develop Pricing Strategy
Approximately 9 Pages
"How much can you get me for my home?"
– Sound too familiar?
Price, Price, Price. We need to set the stage right from the start that price is so important to the successful sale of their home. Too often a seller thinks their home is much better than all the neighboring homes, and therefore should get a higher price. Too often a home seller wants to test the market with a higher price, or leave extra room for negotiating – sound familiar? Too often as agents we give in and promise an unrealistic high number just to get the listing. Bad Idea.
In this step of the listing presentation we talk about using direct comparables and the theory of pricing accurately. We don't just tell them, we show them why it is so crucial to their success. We talk about pricing correctly for the market, and the consequences of pricing too high. We show them that if they price accurately, they will get sold. And if they price too high, they waste time and usually end up getting less money for their home.
We recommend using these pages to discuss pricing theory during the listing presentation. Then after the presentation, if the sellers seem to get it, you can then go over a specific CMA for their home. We have a great example of how to do this very well. View our Best Way to do a CMA article.
A listing well taken, is a listing half sold.
Step 3 – Develop Marketing Strategy
Approximately 3 Pages
"Where will you advertise my home?"
Again, sound familiar?
As REALTORS® we all know print advertising does very little to sell homes – it generally is used to promote the agent. Homeowners do not know this and expect us to do all sorts of newspaper and magazine ads specifically for their home, especially when you get into the higher end luxury markets. Don't fall into over promising and committing to doing costly print ads and brochures.
In this step we show them where buyers actually find the home they purchase. How? By showing them the recent statistical survey information from the National Association of REALTORS®. Some advertising can be advantageous, but it is only one piece of the puzzle.
If you are going to advertise the home, it should be based on a strategic plan that actually can get some results for the home, and for you. You'll see that we begin to manage their expectations.
Step 4 – Implement Customized Marketing Plan
Approximately 17 Pages
Now that we have educated the seller about where buyers actually find the home they purchase, we can implement a customized marketing plan for their home.
Whether you do a lot of marketing, or just a little custom marketing, you actually do a lot more than you might think! Most marketing starts with the MLS. The MLS then feeds the internet and hundreds if not thousands of third party and other REALTOR® websites. The MLS also promotes the property to all the other area agents. You probably do a yard sign, maybe broker open houses, maybe just listed postcards, maybe other additional avenues?
This step of the listing presentation can be customized for you to be simple or more extensive, based on what you and your brokerage offer. You can also save multiple versions of your listing presentation based on what you would like to promote as customized marketing solutions for various levels of properties. We have this section mostly ready to go, but will require you to change out some imagery to look more customized for you and your company and what you focus on. The more you customize this step, the better your listing presentation will be. If your marketing options ever change, its easy to update.
Step 5 – Understanding Your Role
Approximately 5 Pages
Now that you know the seller is serious about selling, and you have them realistic on price, and excited on your marketing plan, we discuss their role. They need to understand that their role is highly important in the success of selling their home.
They need to get their home in ready-to-show condition, and will need to keep it that way during the listing period. They may need to make repairs prior to placing the home on the market for sale. If they do not make repairs now, they may be asked to do so by the buyer. And how will you arrange for showings? Will you need to be present, or will agents be able to use a REALTOR® lock box system.
Again, this is another good time to set realistic expectations. You as the agent, and the homeowner are going to be working as partners, with you as the professional guide. By now you can see how this listing presentation is not just you making promises to the seller, but instead creating a partnership with the seller to achieve the same goal of getting their home sold.
Step 6 – Negotiating the Purchase Contract
Approximately 2 Pages
In listing appointments, homeowners are too focused on Price and Advertising – as if that was all we did as agents!
The home seller needs to understand the value of our professional guidance at the very important time of receiving an offer. The world of real estate has become more complex over the last few years, and probably will continue to do so. Receiving an offer on a home is great, but there is so much to consider with each offer. If you have multiple offers, it becomes even more complicated.
In this step of the listing presentation we explain to the seller how important it is for them to use you, an experienced, knowledgeable professional. They think getting an offer means getting sold. You'll show them that there are many aspects to consider with each and every offer that can have substantial consequences if taken lightly. You show them that they really do need you, and will benefit from your expertise. This is a subject that is usually not even talked about in a listing presentation, yet this is one of the areas that is most important and provides the most value of a seller hiring a REALTOR®.
Step 7 – Managing the Transaction Through Closing
Approximately 2 Pages
Now you have an accepted offer, and are "Under Contract" or "In Escrow". Great, congrats! But as we all know, the work is far from done and there are so many pitfalls to avoid, anything can happen, especially in today's real estate market.
In fact, this is "where the rubber hits the road". Getting to the point of putting a deal together is one challenge, but then getting that transaction to close is another. We explain this to the home seller in advance to again set realistic and manageable expectations. They also need to know why it is so important to choose you, as the experienced professional vs. other agents.
Giving them the knowledge of what to expect will also make it much easier when you are working on gathering Seller Disclosures, Buyer Inspections, etc. If issues do arise during the transaction process, your seller will have been forewarned, and will be somewhat less hostile during the inevitable complications that often arise. Rarely does a listing presentation talk about this part of the process, and this is another opportunity where you will promote yourself well and stand out above the competition.
View Our Listing Presentation Below