A Fully Customized Listing Presentation Showcasing You!
Our Steps to Success Listing Presentation was originally designed to be used by real estate brokerages to offer to their agents. Quickly we realized the importance of the ability to customize the entire listing presentation to an individual agent's branding, identity, style and business model.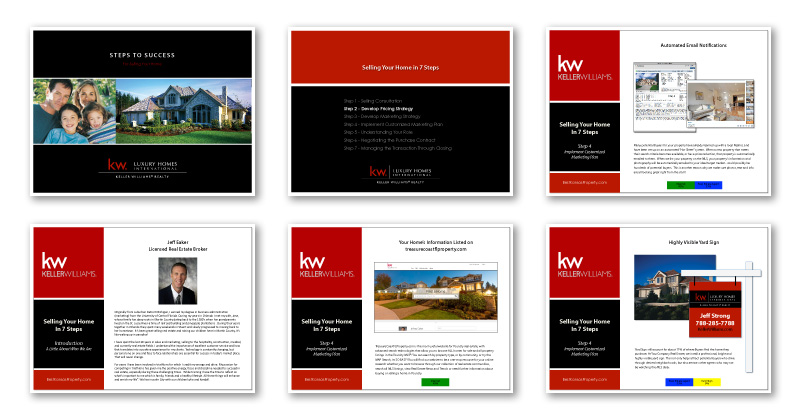 Above: Our standard Red presentation personalized with KW logos and information.
For each and every individual agent, we embrace their uniqueness, and what makes their business model special. As you can see in the sample above, it is easy to take our template version and adjust to fully make it your own. Now with our new PowerPoint template version you can easily customize our Steps to Success Listing Presentation to fit your exact needs. The more you take advantage of customizing to create your own presentation, the more you'll stand out from your competition and the more successful you will be.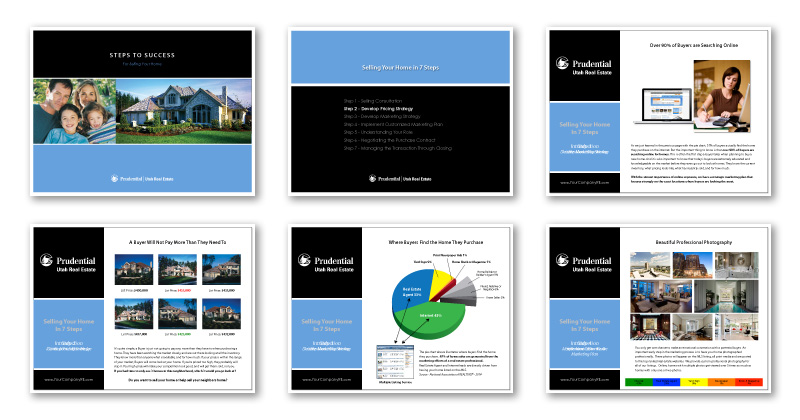 Above: A color variation sample found in the back of both our Red and Blue standard presentations. Then the Prudential logo was added. In the back of the listing presentation, you'll find a few color variation samples that you can cut and paste into the "master pages" to easily change the coloring of the presentation. Or change to coloring to whatever you like.
If you are an agent looking to purchase this on your own, this is your listing presentation from here on. If you are at Re/Max now and then move to Prudential, Keller Williams or Sotheby's, it does not matter because you can make quick and easy changes to update your listing presentation. You'll simply change the overall color, logos, some text and possibly some of the images. To start you'll make a few adjustments, but you can pretty much run this listing presentation in its stock format. Most of the imagery is generic enough to work for anyone, but is good enough to look very professional. This is not your typical cheesy clip art presentation.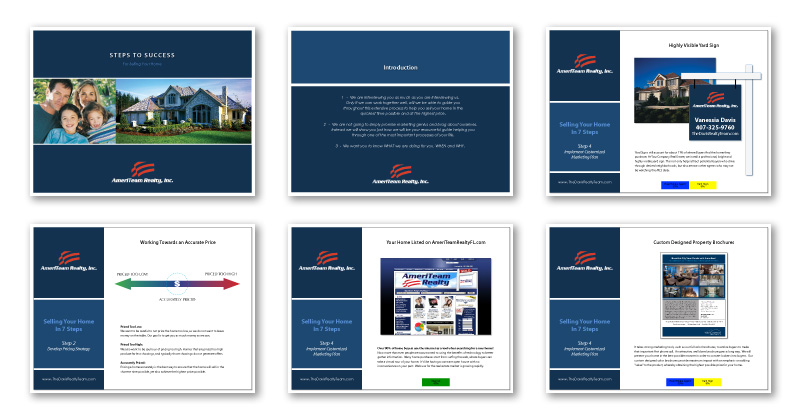 Above: This presentation was created from our stock blue version and had a few simple changes such as adding the brokerage logo in the dark blue panels. They also added their website, shown on the bottom middle page, and you'll see they adjusted the sign graphic to look like their yard signs.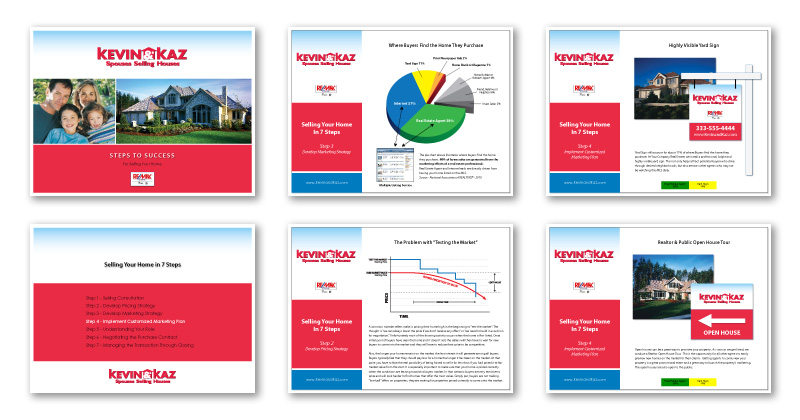 Above: This sample started with our standard Red presentation, then personalized to match a unique look the agents had.
As you can see in these samples, you can easily adjust the coloring, swap out the logo and a few images, and your presentation will quickly become fully customized and unique. It does take a little time to do, especially if you are not familiar with using Microsoft PowerPoint or Apple's Keynote. But once you start working on it, you'll quickly get the hang of it. The more you personalize your presentation, the better it can work for you.
---
Its Easy to Get Started!
Order below, or call us today to learn more: 
(435) 901-2158
---
When ordering on this website, the pricing is for individual agent use only, which includes a partnership or a small team of up to 5 agents. If you are a brokerage, small or large, we have brokerage pricing for use of more than 5 agents. Please call to discuss pricing at (435) 901-2158.
Get the Listings You Want!
Our Steps to Success Listing Presentation does an incredible job of setting you apart from your competition. You will appear to be the most professional, the most prepared, the most credible, and the obvious choice to list their home.
Get the Listings the Way You Want Them!
Our Steps to Success Listing Presentation will help the seller to understand the importance of pricing correctly. If they still do not get it, you know right away if you should move on, and pass on taking the listing. They will also quickly understand where buyers come from, and will realize a shotgun approach to advertising simply does not sell homes – so you will not need to promise expensive ad campaigns. They will also understand their role in the home selling process. They will understand what they need to do to get their home ready for sale, and what they need to do during the listing timeframe. They will understand what you are working on, so they will not need to constantly ask what you are doing to sell their home. They will also have a preview of what happens when they receive an offer so they will be easier to work with when that happens. They will also have an understanding of what occurs once going under contract, so again, they will be more easily manageable. Overall, you will have a much better cooperating seller, because you will have a more educated seller.
Any Brokerage, Any Agent, Any Market!
Our Steps to Success Listing Presentation is an amazing tool for that will work for any brokerage, any agent, and any market! Whether you are an experienced agent or just getting started in the business, this presentation tool will help you. Whether you work in the luxury high-end market or first time sellers, this will help you.